Shopware is our preferred e-commerce software for the implementation of online stores. For this reason we have been a Shopware partner for several years. As an expert with years of experience from a variety of projects, we know the webshop software inside and out. We mostly work for medium-sized companies and accompany them in the entry or further development of e-commerce activities. Nationally and internationally. In B2C as well as B2B. In any case with heart and soul and personal support.
The software is suitable for a wide range of applications. The store system can be used in the B2C area (end customers) as well as in the B2B area (corporate customers). In addition, the convincing technological basis, the solid company from Schöppingen and the permanent development of the software speak for the e-commerce system.
Shopware is also the ideal system to enter markets quickly. On the one hand the "basic equipment" is excellent. So the provided layout can be quickly adapted to the corporate design of companies. An optimized display on different devices (desktop, tablet, smartphone) is a matter of course. In addition, the integrated functions cover all essential areas of an online store. In the demo store you can get an idea of the possibilities of the e-commerce system. On the other hand, many individual requirements can be implemented "out-of-the-box" with so-called plugins.
For projects of any kind, the
store
offers a variety of ready-to-use solutions and extensions. This has the advantage that not every requirement for an online store has to be developed from scratch. Thus you save your budget and save time in the project. Nevertheless, before using a plugin for our customers, we check if a plugin makes sense. Or whether a new development is not nevertheless the better alternative. Because in particular the quality of the plugins offered is quite unsteady. For this reason we look also "behind the front" and analyze the implementation. Additionally we can judge the quality of the appropriate plugin suppliers from our experience very well. Because fast support and a secured further development with regular updates are a basic requirement for us.
The e-commerce system is offered in 3 different editions with different license models:
Starter Edition: ss hosted by the provider Amazon AWS and runs completely in the cloud. The billing is based on a revenue share and, depending on the functions, on a monthly basic fee.
Community Edition: The license-free edition without support from the manufacturer.
Professional Edition: The entry-level solution with manufacturer support. In addition to the Community Edition, the Professional Edition offers storytelling, convenient banner management (digital publishing) and the integrated ERP system Pickware.
Enterprise Edition: The enterprise solution that is particularly suitable for multiple store installations (clients) or for B2B requirements.
Basically all editions are open source software and not encrypted. Therefore the source code of the e-commerce software is freely accessible.
Im Rahmen des neuen Lizenzmodells bietet Shopware 3 Pläne an, welche neben dem Hersteller Support auch zahlreiche Funktionalitäten beinhalten:
Rise: Dieser Plan beinhaltet neben einem grundlegenden Support einige Funktionen, die das Verwalten des Shops erleichtern, wie z.B. eine Vorschau Funktion im Flow Builder und Rule Builder oder dem AI Copiloten. Darüber hinaus stehen einige Erweiterungen zur Verfügung, mit denen z.B. die Kunden Produkte individualisieren oder Retouren in der Administration verwaltet werden können.
Evolve: Neben allen Funktionen des Rise Plans und einem schnelleren Support beinhaltet dieser Plan eine Vielzahl von B2B Funktionalitäten. Darüber hinaus bietet der Plan einige fortgeschrittene Funktionen im Bereich Content Management, wie z.B. die Möglichkeit, bestimmte Inhalte nur unter bestimmten Bedingungen anzuzeigen. Oder Änderungen vorzubereiten und als Entwurf zu speichern, anstatt diese direkt zu veröffentlichen.
Beyond: Der umfangreichste Plan beinhaltet neben allen Funktionen der Pläne Rise und Evolve einen 24/7 Support. Außerdem gibt es einige sehr fortgeschrittene Funktionen, wie z.B. kundenspezifische Preise, Subscriptions oder das Verwalten mehrerer Lagerhäuser.
Das Shopsystem steht weiterhin sowohl in der lizenzkostenfreien Community Edition als auch in den kommerziellen Plänen als Open Source Software zur Verfügung und ist somit frei zugänglich.
Gerne beraten wir von scope01 Sie, mit welchem Modell Sie Ihre Anforderungen am besten umsetzen können.
scope01 is Shopware solution partner
scope01 from Frankfurt am Main is Shopware solution partner. Because we offer our customers customized solutions. We tailor these solutions exactly to the respective requirements. Furthermore, we are in close contact and exchange with the manufacturer.
As a full-service internet agency we offer all services around online stores with Shopware:
Conception of online stores and e-commerce platforms
Design and usability
Implementation and customization of frontend and backend
Programming of plugins
Development and integration of interfaces
Training for editors, administrators and developers
Coaching of internal resources (project management and development)Maintenance and support during operation
Further development
Search engine optimization and online marketing
In addition, we offer our own solutions as plugins in the store of Shopware in 2020.
scope01 is Global Newcomer Partner 2019
As part of the Shopware Community Day 2019, scope01 was awarded Global Newcomer Partner 2019.
Shopware expert for PIM, DAM and CMS with Pimcore
In the e-commerce software environment, scope01 is the expert and preferred contact for Pimcore. With the data management software from Austria you can professionally manage product data (PIM), media data (DAM) and content (CMS) in Pimcore. Our interfaces ensure a seamless integration into shopware. We offer these in the store as plugin for purchase.
Our employees are certified in the e-commerce software. So we have completed all four certifications of version 5. Additionally, we are one of the first partners to be certified for the new version 6. The certifications take place either as 1-2 day classroom training in Schöppingen or as online training. All certifications end with a test by the manufacturer.
Shopware 6 Certified Developer
Shopware 6 Certified Template Designer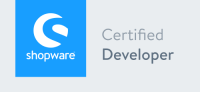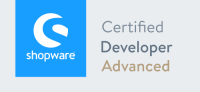 Certified Developer Advanced
Certified Template Developer
Certified Template Designer
In several projects, we have driven internationalization with Shopware in the form of international e-commerce projects. Because we have already
The idea for the Shopware Redirect Plugin With the Shopware Redirect Plugin, we at scope01 want to make your work